ОНЛАЙН ПОДДЕРЖКА
Чан Тху Нга ( Таня)
Специалист по внутреннему туризму
660890430 (ICQ)
Cellphone: 0903. 198. 854 Email:
t3nga@cholontourist.com.vn
---
608083874 (ICQ)
Email:
xuantrang@cholontourist.com.vn
Email:
xuantrang@mail.ru
HOT & ПРОДВИЖЕНИЕ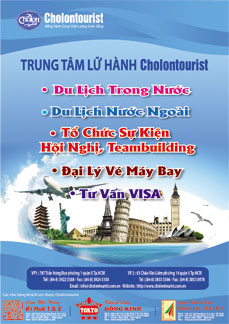 обменный курс
| | | | |
| --- | --- | --- | --- |
| код | название валюты | покупка | продавать |
| USD | US DOLLAR | 23015 | 23085 |
| EUR | EURO | 26644.87 | 26963.1 |
| GBP | BRITISH POUND | 29648.43 | 30123.38 |
| HKD | HONGKONG DOLLAR | 2894.85 | 2958.93 |
| JPY | JAPANESE YEN | 200.83 | 207.14 |
| CHF | SWISS FRANCE | 22765.03 | 23222.42 |
| AUD | AUST.DOLLAR | 16789.64 | 17075.56 |
| CAD | CANADIAN DOLLAR | 17152.92 | 17497.83 |
| SGD | SINGAPORE DOLLAR | 16653.18 | 16953.83 |
| THB | THAI BAHT | 675.89 | 704.09 |
ESSENTIAL NORTHERN TRIP
NOR01
Daily
Ha Noi
6 Days/ 5 Nights
10
Car/ Van & Boat
3*, 4* or 5*
ROUTING: HA NOI - NINH BINH - HA LONG
DAY 1: HANOI ARRIVAL (-/-/D)
Welcome to Hanoi, transfer of 45 min to your hotel in town (if it is still early, then we can venture out for some culture shocks on a short walking tour in the Old Quarter of Hanoi - this is the way to get familiar with the people and the culture). Late afternoon, join the water puppet show at Thang Long theatre – a special cultural value of our traditional rice civilization and enjoy our welcome dinner at Ly Club, enjoy a sensory feast by indulging in the tastes and textures of our innovative cuisine while opening your hearts and minds to the visual and acoustic pleasures of a variety of traditional Vietnamese performance art. Overnight in Ha Noi
DAY 2: HANOI CITY TOUR (B/-/-)
Buffet breakfast at your hotel
A day to explore our Ha Noi capital city including:
The Ho Chi Minh Complex (Including Ho Chi Minh Mausoleum, Museum, President Palace, One Pillar Pagoda) is a place that most travelers should not miss. This historic place was where Respected Uncle Ho read the Vietnam Manifesto on September 2nd, 1945
Temple of Literature: known as the country's first national university
To have an overview of Northern Vietnam's culture in general or Ha Noi in paricular, pay a visit to the Museum of Ethnology
The macabre Hoa Lo Prison. The French built this prison near the turn of the century, with construction completed in 1901. The name Hoa Lo, means "portable earthen stove," and originated from the families who used to live on the land before the French built on it
Vietnam Women's Museum: focuse on the contribution of women to Vietnam's history and culture, this museum highlights their roles in Vietnam's many military conflicts as well as in commerce, including features on female street vendors, women's role in the family, and more recently, single mothers in Vietnam.
Rest of afternoon: join the historical orientation cycling hour through the Old Quarter, delving into the nooks and crannies of the city and bringing us to a restored original Old Quarter homes. During the city tour, enjoy lunch at local restaurant at your own account. Dinner is at your own arrangement and Overnight in Ha Noi
DAY 3: HANOI – HOA LU – TAM COC BICH DONG (B/L/-)
Depart the hotel this morning at 8.00AM for the two and a half hours drive through rural Northern Vietnam to the site of Vietnam's first capital, Hoa Lu. Visit the temples dedicated to Emperor Dinh Tien Hoang of the Dinh Dynasty (968-980), and Emperor Le Dai Hanh of the Le Dynasty (980-1009). The ancient Hoa Lu Citadel (most of which have since been destroyed) once covered an area of three square kilometres.
If time permits after visiting Hoa Lu (for the fit and healthy), take a half-hour walk up one of the surrounding limestone karst hills, the climb is rewarding with spectacular views.
In the late morning depart for Tam Coc Town for a Vietnamese lunch, along the way stop where you wish to take photographs of local villages and the stunning landscape.
After lunch board your private sampan. As the boat gently slices through the water, notice the enormous limestone karsts jutting out from the green rice fields giving rise to other name 'Ha Long on Land'.
Should you feel adventurous climbing up to Bich Dong Pagoda on nearby Ngu Nhac Mountain, dating to 1428 and comprising three structures: Ha, Trung, and Thuong Pagodas, in ascending order. Following its back by sampan to Tam Coc town.
Dinner at your own account and overnight in Ninh Binh.
DAY 4: NINH BINH - HALONG (B/L/D)
Depart Hanoi for Ha Long Bay by road through the rich farmlands of the Red River Delta and the scenery of rice fields (harvest time: 5th month and 10th month of Lunar New Year), water buffalos and everyday Vietnamese village life on both sides of the Highway №18. Arrive in Ha Long city after about 4 hours driving, board our traditional junk, for an overnight journey. Sip on a refreshing welcome drink upon check-in before you begin your cruise through the Bay. Start sailing from Ha Long Bay area, feast on a delicious lunch as you cruise among beautiful islets (Tea pot islet, Mat Quy – Monster Face islet, Yen Ngua islet, Man's Head islet, Tortoise islet etc.) to discover unspoilt pockets of Ha Long Bay and visit Sung Sot – Amazing Cave, one of the most imposing grottos of the Bay. Swim at Soi Sim beach or Titov beach or a short trek to the top of Titov mountain (426 Steps) for a magnificent panorama scenery. Fresh fruits served at lounge or sundeck while waiting your dinner to be prepared on board. Squid fishing or relax and chatting with your partner, friends, family. Overnight on Ha Long Bay
Road journey Ha Noi – Ha Long: 170km ~ 3.5 – 4 hours by car/van/bus

Cruise's itinerary may change depending on weather condition and the boat we choose
DAY 5: HALONG – HANOI (Brunch)
Morning enjoy the sunrise, that would be great picture as it is rising up from the ocean and through the peaks of the limestone islands. Taking Tai Chi Exercise with an opportunity to admire the magnificent scenery of early morning. Complimentary tea, coffee and "light" breakfast then are served. Taking a visit to Luon cave on small bamboo boat and enjoy the quiet atmosphere enclosed by high islets and mountains. Be back to the Junk, sail past rock formations and spread your eyes over Finger islet, Hoa Cuong fishing village area, Ga Choi – Fighting Cock islet, Dinh Huong Islet, Little Dog islet. Enjoy the tranquil scenery as the boat meanders its way through the bay on the way back to Ha Long city. Enjoy a brunch as your boat weaves through strange-shaped limestone rock formations. Arrive back at Ha Long city for disembarkation where your driver waits to take you back to Ha Noi.
Road journey Ha Long – Ha Noi: 170km ~ 3.5 – 4 hours

Cruise's itinerary may change depending on weather condition and the boat we choose

Depending on each boat, we may have a light breakfast and lunch for today, or just have a brunch (meal served between breakfast and lunch in the late morning) before disembarking.
DAY 6: HANOI – DEPARTURE (B/-/-)
Free time till transfering to Airport for departure flight. Ends.
СТОИМОСТЬ: USD/чел: (Цена включена налог и обслуживание на человека в USD (US$), и возможна изменяться в зависимости от сезона)
| | | | |
| --- | --- | --- | --- |
| Тип Номера | Ко-во туристов | Стоимость (USD) | |
| Standard | 1 чел | | Book |
| Standard | 2 чел | | Book |
| Standard | 3 чел | | Book |
| Standard | 4 чел | | Book |
| Standard | 5 чел | | Book |
| Standard | 6 чел | | Book |
| Standard | 7- 10 чел | | Book |
| Superior | 1 чел | | Book |
| Superior | 2 чел | | Book |
| Superior | 3 чел | | Book |
| Superior | 4 чел | | Book |
| Superior | 5 чел | | Book |
| Superior | 6 чел | | Book |
| Superior | 7- 10 чел | | Book |
| Deluxe | 1 чел | | Book |
| Deluxe | 2 чел | | Book |
| Deluxe | 3 чел | | Book |
| Deluxe | 4 чел | | Book |
| Deluxe | 5 чел | | Book |
| Deluxe | 6 чел | | Book |
| Deluxe | 7- 10 чел | | Book |
| Single Supplement (Standard) | 1 чел | | Book |
| Single Supplement (Superior) | 1 чел | | Book |
| Single Supplement (Deluxe) | 1 чел | | Book |
Above rate is not available for bookings falling on these periods:
Hung King Ceremony & Southern Liberation day: 26th April 2015 to 2nd May 2015

National Day: 2nd September 2015

Year end : 27th ~ 31st December 2015
Confirmation of room & price are subject to space availability at the time of booking

.

Compulsory meals & peak days surcharge to be advised at the time of booking. If you don't see any extra charge in your invoice, it means you get it free of charge

.

All above itinerary is flexible, depending on arrival or departure flights of passengers or weather condition at the destination

.
Ground operator reserved the right to amend or adjust the itinerary to match the real situation.